Lockdown work at the club
While the bar & kitchen remain closed we are continuing with clubhouse work and improvements in the lounge area.
Your Event at Your Club.
Do you have a special celebration you are planning?
As part of your membership you are entitled to FREE room hire (normally £250) for any personal event such as, a Birthday, Anniversary, Wedding, Celebration of life or just a family gathering. As a member you also get 10% discount on all catering & beverages.
If you are considering holding an event come along to see what we have to offer.
19th HOLE ACCUMULATOR
Thursday evenings now offer you the chance to take home a cash prize!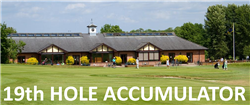 Come down to the Club every Thursday evening and have a chance to win our weekly accumulator, enjoy good company and join in the fun.

Food will be available from the kitchen until 8.30pm with the full bar menu and a different special available on the night.

Every Member over 18 years of age has an allocated number, so everyone has an equal chance of winning. You just need to be in the clubhouse when the draw is made at 8pm to claim your prize. The prize starts at £200, each time there is no winner it raises by £50.
A weekly raffle also takes place and tickets can be brought all week from the Pro Shop and in the Bar, and you do not have to be present on the evening to win the raffle.

Example Raffle Prizes include:-

1st Prize £50 Pro Shop Voucher

2nd Prize Three Bottles of wine

3rd Prize A sleeve of 3 Balls


A 9 hole competition is also run through the summer months, roll up from 4.30pm and sign in the pro shop before play.
Monthly Quiz Nights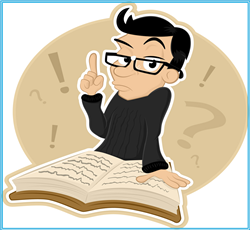 Give your grey matter a work-out with our monthly quiz night. Upcoming dates & timings are below, with the Accumulator also being drawn at 8.00pm
Arrival from 6.30pm
Part one of the quiz - 7.00pm - 8.00pm
Accumulator Draw & Raffle @ 8.00pm
Part two of the quiz - 8.15pm - 9.15pm
No team name required until the night.
Teams can be an individual or up to a maximum of 6 a table.
2020 Dates
Thursday 23rd January
Thursday 20th February
Thursday 19th March
Thursday 23rd April

Carvery Sundays
Have you booked?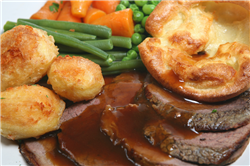 A casual but traditional lunch with family and friends without the washing up! Carvery Sundays are held once a month across the winter period with tables available of any size, bookings from midday. 2 or 3 Courses available and don't forget to use your club card for a 10% discount.
To book your table please see Jenny or a member of the bar staff.
Upcoming dates:
2020
26th January
23rd February
22nd March
26th April
31st May
Bistro Evenings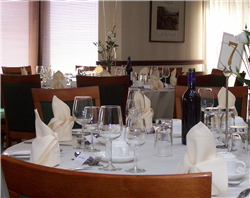 Our very popular Bistro Evenings are only run over the winter months so we can look to create the right atmosphere in the restaurant for a candlelit meal for up to 6 people.

Come along and choose on the night from our bespoke menus. Our chefs have put together different menus for each evening to tantalize your taste buds. Tables are limited so don't leave it too late to book your table.

To make a reservation please see Jenny or a member of the bar staff.

Bistro Evenings are held on Friday nights through the Winter months. Upcoming dates:

2020

Friday 17th January - Tables available
Friday 28th February - Tables available
Friday 27th March - Tables available
Friday 24th April - Tables available
Friday 29th May - Tables available