Dress Code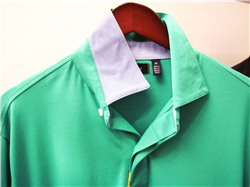 Our dress code is printed so that visitors do not inadvertently wear incorrect clothing.

1. Golf Shoes
Proper golf shoes must be worn on the course at all times. Inside, golf shoes of any type may only be worn in the locker rooms and pro's shop.

2. Shirts
On the course, all shirts must have a collar or a rolled neck; men's shirts must be "tucked in". Ladies may wear sleeveless shirts.

3. Shorts
Must be tailored and long, for everyone at all times.

4. Socks
Men's should preferably wear long socks with shorts but short white socks will be accepted.

5. Hats and Caps
Please do not wear headgear in the clubhouse.

6. Diners
Men must wear jackets & ties after 7.30pm, when dining.

Forbidden clothing anywhere at Clandon Regis Golf Club

'T' shirts, denim & all jeans, leggings, tracksuits and trainers. (In the case of juniors there may be some relaxation of the Jeans/trainers ban when these are considered to be fashion items)
It is expected everyone will endeavour to wear 'smart' golf dress on the course and 'smart' casual dress in the clubhouse.